100% Pure
Maple Syrup Products
The Wallace clan located in Hemingford, Quebec, has made maple syrup for over 200 years.
Our story began when the late Chesley Wallace family established mountain maple products in 1964 on St. Joseph Island, ON.  Ches and his wife purchased the 100-acre farm and pioneered with maple tubing and vacuum systems. He started by carrying a car battery on his back to power the drill; he tapped 300 trees in 1965. The days were full of good humour and healthy work, he showed countless young people the rites of the sugar bush.
In 1986 don manchur was one of those boys, becoming a valuable working partner and sole owner in 2017. What Ches started as a hobby over 50 years ago has grown to a full-time job today. Don's daughters Yvonne and Aimee along with son-in-law-Bob (leading force) take on the responsibility of all line expansions and bush maintenance.
Mother nature gusted in with a devastating wind storm in June 2017. All was cleaned up and ready, or so we thought. She dumped 13 feet of snow for the 2019 tapping season burying all main & lateral lines within the 100 acres! She then followed up with a devastating ice storm in January of 2020.  Devotion and long hours ensured the bush was ready for the sap to reach the main building.
Equipment upgrades are ongoing, the biggest included the oil-fired evaporator that was purchased in 2016. A new 50×24 storage and canning room was built in 2018. A smallwood fired evaporator was purchased for the grandkids and to be used as hands on educational experience for visitors, for the 2020 season.
In the spring of 2021, another 33-acre maple bush was purchased to keep the expansion moving forward.  Over the years Mountain Maple has hosted on-site visitor.  Some of the highlights were hosting country roads tour October 2019, lakeshore excursions tour from France 2019, and the OMSPA members 2018.  All guided tours, demonstrations and of course complete with tasty maply treats, like taffy on "snow" from the newest equipment upgrade, the portable taffy table!
We genuinely enjoy educating people on the process and health benefits of the first agricultural crop of the season.  Often folks are surprised how complex the process from sap to syrup can be.  Although don has expanded mountain maple products to a full-time business, it still feels (for the most part) like a spring hobby. This past season, with the covid-19 pandemic, there were no visitors and syrup was made with limited help from selected family.
Our goals for the future include expanding to 10,000 taps, maintaining a quality authentic product and for the kids and grandkids to continue to promote and sustain an example of this sweet Canadian heritage. I believe Ches would consider this to be a priceless legacy.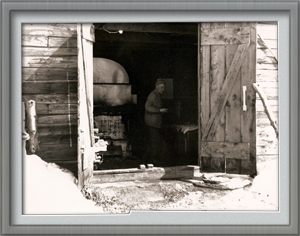 Mountain Maple Products
are available all year round.